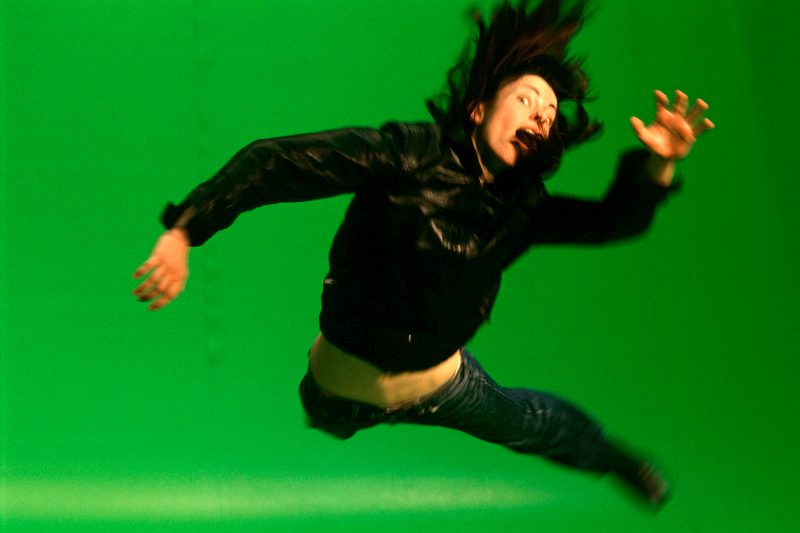 © Peter Lenaerts
Why We Love Action
Why We Love Action plays out in the green-key studio: a space where scenes are never finalized but always in the process of becoming. Experimenting with excessive expression from a cinematic point of view, the performers cry, fight and kill, search buildings, avoid explosives, hang of cliffs and smash their heads against tables for the pure pleasure of effective experiencing.
Interested in the physicality of stunt coordination the performers create doubles of movie characters, voices, sounds and images. What happens from a perceptive point of view when the "real" characters are fully replaced by their anonymous doubles, and when their effects are extracted and redoubled? What kind of theatricality comes out of such an experiment? It's no longer about following a logic of cause and effect, but rather about effects making up a logic of their own.
In this way, Ingvartsen works towards touching on a cinematic sensation within the setting of live performance that doesn't need the whole movie.
Premiered in 2007 at PACT Zollverein, Essen
Concept & Choreography: Mette Ingvartsen
Performer: Eleanor Bauer, Jefta van Dinther, Lucia Glass, Mette Ingvartsen, Kajsa Sandstrom, Manon Santkin
Sound Design, Photography: Peter Lenaerts
Stunt and stage fight workshops: Peppe Ostensson, Maria Winton, Kristoffer Jørgensen
Light Design: Marek Lamprecht
Technical Director: Oded Huberman
Production Management: Kerstin Schroth
A production of Mette Ingvartsen / Great Investment

Co-production: Hebbel am Ufer (Berlin), Kulturhus (Aarhus), PACT Zollverein (Essen), Uzès Danse, Centre de développement chorégraphique de l'Uzège, du Gard et du Languedoc-Roussillon
Funded by Hauptstadtkulturfonds (Germany)
Research supported by Kaaitheater (Brussels), Nadine (Brussels) & Theater In Motion (Beijing)
Thanks to: All of Nadine, Mårten Spångberg, Elke Van Campenhout, Bojana Cvejic, Heike Langsdorf, Camilla Marienhof, Tawny Andersen, Inneke van Waeyenberghe
Jun 19, 2008 9:12 AM

2008

June 19
Uzès, France

Feb 8, 2008 9:12 AM

February 8 - 9
Brakke Grond, Amsterdam
Nov 24, 2007 9:12 AM

2007

November 24
Velinx, Tongeren

Nov 22, 2007 9:12 AM

November 22 - 23
STUK, Leuven

Jun 20, 2007 9:12 AM

June 20
Kaaitheater, Brussels

Jun 6, 2007 9:12 AM

June 6 - 7
Teatro Metastasio, Prato, Italy

Apr 27, 2007 9:12 AM

April 27 - 29
HAU2, Berlin

Apr 24, 2007 9:12 AM

April 24 - 25
Utrecht

Mar 23, 2007 9:12 AM

March 23 - 24
Tanzquartier, Vienna, Austria

Mar 20, 2007 9:12 AM

March 20 - 21
Ridehuset, Arhus, Denmark

Mar 15, 2007 9:12 AM

March 15 - 17
PACT Zollverein, Essen