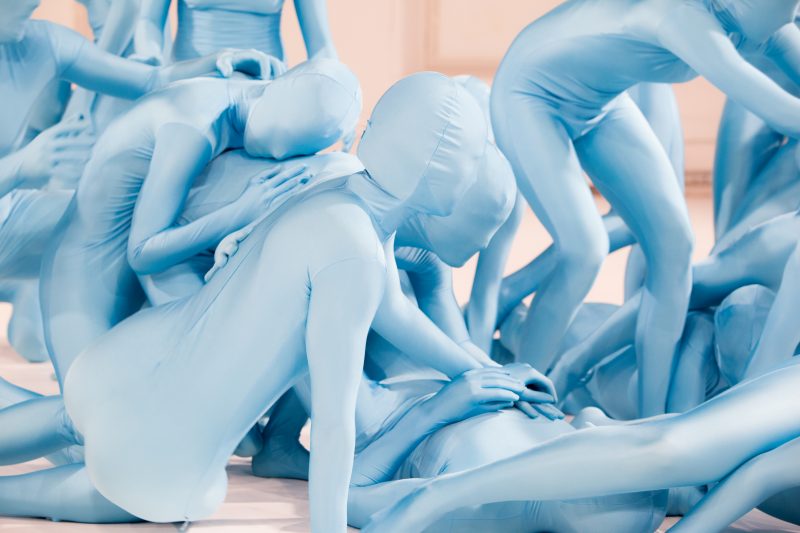 © Jens Sethzman
to come (extended)
We are constantly surrounded by images of sexual bodies. Commercials, Internet, cinema, magazines – all kinds of media – expose the intimate and the erogenous. Flesh, fluids, skin, tits and asses no longer belong to late hours in a dark joint somewhere around the corner, but to our daily life impressions. Operating in public spaces and behind closed bedroom doors, erotic images, texts and sounds influence the way we move. The option to switch off the stimulation of our bodily desires no longer exists. Pleasure has become a must.
to come (extended) explores indistinctions between private and public space in regard to sexual representation. In a performance that literally disrupts erotic orders, a group of 15 performers questions the notion of individual sexual freedom by working on orgiastic relations. The bodies of the performers merge into a collective group formation by making their surfaces indistinguishable from one another. Working directly on how bodies can physically connect, mechanisms of desire are rethought by experimenting with sexual, orgasmic and social expressions. The performance challenges the use of climactic and orgasmic structures in theater by proposing extended states of pleasures in which excitement is both excessively slowed down and energetically sped up. The enjoyment of abstract colors and shapes mix with a sensation of rhythmic pulsing produced by sensual figures, while social structures come undone.
to come (extended) is based on an earlier work for five dancers made by Mette Ingvartsen in 2005. The reason for revisiting this choreography with a larger performing cast lies in Ingvartsen's wish to refract the current politics of sex through the joyful tone of the perspectives of the 2005 piece. Furthermore, to come (extended) joins the series of her recent works (2012-17) – 69 positions, 7 pleasures and 21 pornographies – dealing with the conjuncture of sexual politics, private and public spheres, and experience economy.
Premiere in 2017 at steirischer herbst festival, Graz
The Red Pieces
to come (extended) is part of The Red Pieces, an ongoing series of performances in which Mette Ingvartsen explores relationships between sexuality and the public sphere. In it she investigates naked and sexualized bodies and their influence on societal structures. The series momentarily also comprises 69 positions, 7 Pleasures and the performative conference The Permeable Stage in which a number of artists and theorist were invited to reflect upon, perform and discuss the politics of sexuality and how it travels across borders between public and private space.
Concept & Choreography: Mette Ingvartsen
Performers: Johanna Chemnitz, Katja Dreyer, Bruno Freire, Bambam Frost , Ghyslaine Gau, Elias Girod, Gemma Higginbotham, Dolores Hulan, Jacob Ingram-Dodd , Anni Koskinen, Maia Means (permanently replacing Hagar Tenenbaum), Olivier Muller, Calixto Neto, Danny Neyman, Norbert Pape
Replacements: Alberto Franceschini, Hanna Hedman, Manon Santkin
Based on to come (2005) developed & performed by: Mette Ingvartsen, Naiara Mendioroz Azkarate, Manon Santkin, Jefta van Dinther, Gabor Varga
Lighting design: Jens Sethzman
Musical-Arrangements: Adrien Gentizon
Based on to come (2005) Musical-Arrangements by: Peter Lenaerts
Set: Mette Ingvartsen & Jens Sethzman
Blue suits: Jennifer Defays
Dramaturgy: Tom Engels
Lindy hop teachers: Jill De Muelenaere & Clinton Stringer
Technical director: Hans Meijer
Sound technician: Adrien Gentizon
Assistants production: Elisabeth Hirner & Manon Haase
Company Management: Kerstin Schroth
A production of Mette Ingvartsen / Great Investment
Co-production: Volksbühne (Berlin), steirischer herbst festival (Graz), NEXT festival / Kunstencentrum BUDA (Kortrijk), Festival d'Automne (Paris), Les Spectacles vivants – Centre Pompidou (Paris), Dansehallerne (Copenhagen), CCN2 – Centre chorégraphique national de Grenoble, Dansens Hus (Oslo), SPRING Performing Arts Festival (Utrecht), NEXT festival / le phénix scène nationale Valenciennes pole européen de création.
Funded by: The Flemish Authorities & The Danish Arts Council.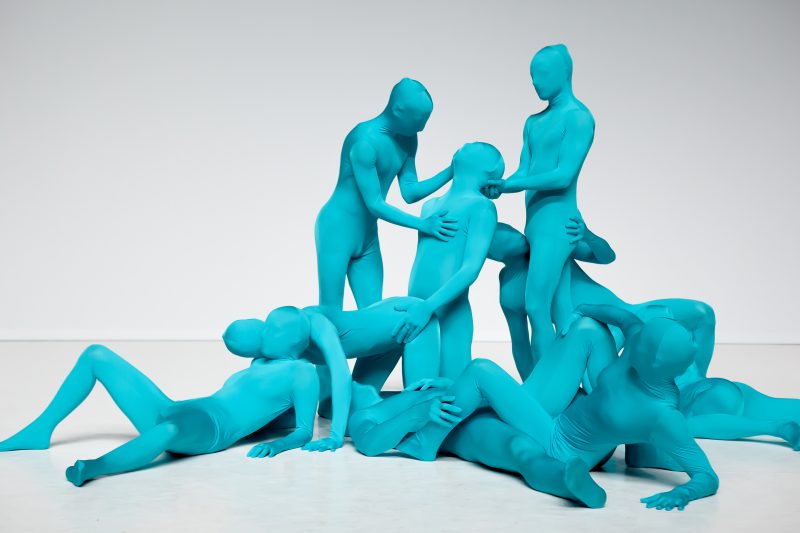 © Jens Sethzman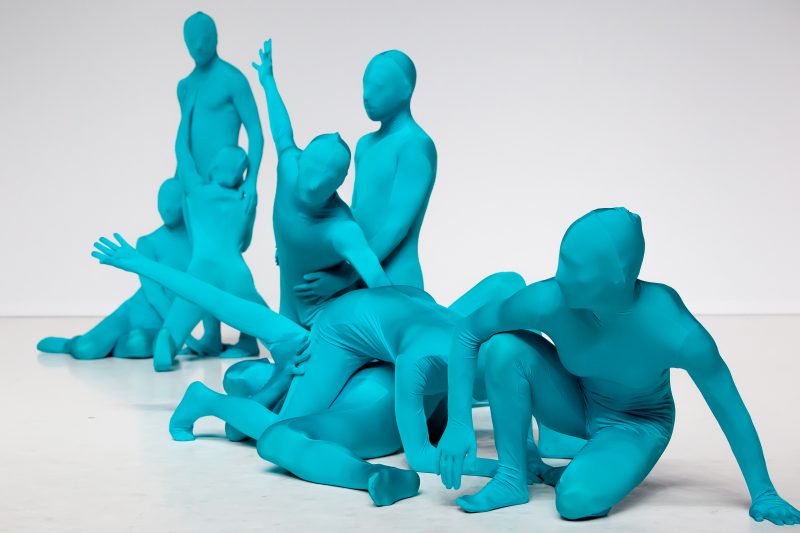 © Jens Sethzman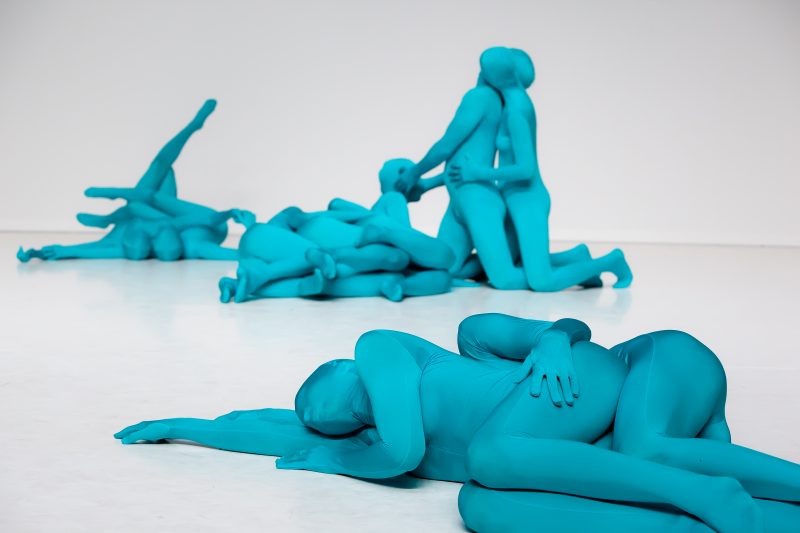 © Jens Sethzman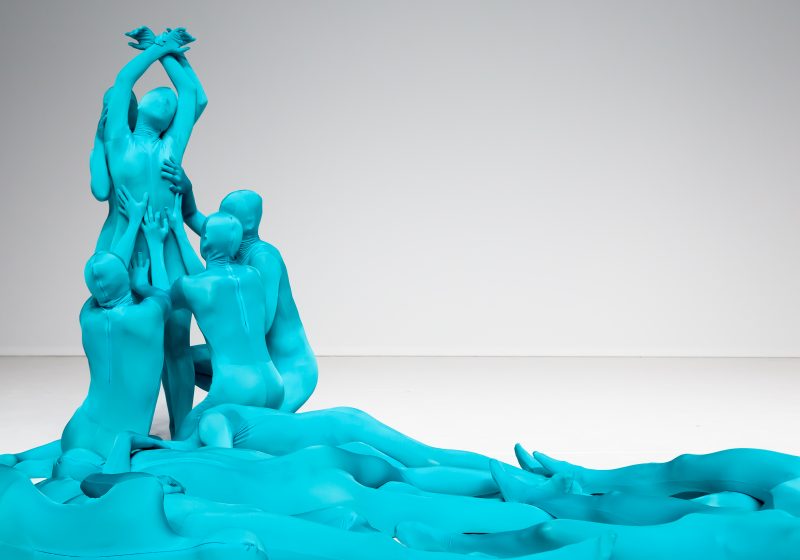 © Jens Sethzman