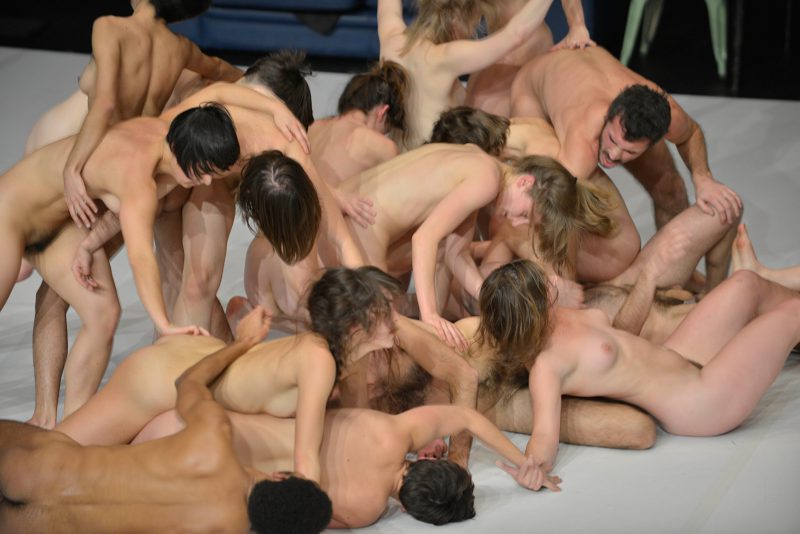 © Marc Coudrais
7 Pleasures
Seven notions of pleasure. Seven notions to be unfolded, experienced and imagined. Pleasures transforming bodies, contaminating matter and the environment. At the heart of Mette Ingvartsen's most rececent creation, pleasure becomes a perceptual as much as a political question: How to generate and transmit other forms of pleasure than those choreographed by everyday life? How to explore pleasure's un-canniness, its points of connection with the inside, the outside – its social and subjective ramifications? How to use its joyful potential to disrupt cliché images attached to nudity and sexuality?
A group of 12 performers work on sensations and their representation. As a melting together of states, in a long sensual movement, explored through the skin, bodies touch, test, lose their borders. They vibrate, enter into contact and composition with the objects that surround them – forming unexpected constellations of variable geometries. Little by little a sensation unfolds where every aspect of pleasure is handled, stirred, returned in all its complexity. Vibrational, viscous, tactile, visual, contractual, ecstatic or collective: seven succeeding circles, intertwine their questions to draw up a map of pleasure to be experienced as much as deciphered.
Premiered in 2015 at steirischer herbst festival, Graz
The Red Pieces
7 Pleasures is part of The Red Pieces, an ongoing series of performances in which Mette Ingvartsen explores relationships between sexuality and the public sphere. In it she investigates naked and sexualized bodies and their influence on societal structures. The series momentarily also comprises 69 positions and the performative conference The Permeable Stage in which a number of artists and theorist were invited to reflect upon, perform and discuss the politics of sexuality and how it travels across borders between public and private space.
Concept & Choreography: Mette Ingvartsen
Performers: Sirah Foighel Brutmann, Johanna Chemnitz, Katja Dreyer, Elias Girod, Bruno Freire, Dolores Hulan, Ligia Lewis, Danny Neyman, Norbert Pape, Pontus Pettersson, Hagar Tenenbaum, Marie Ursin (permanently replaced by Gemma Higginbotham)
Replacements: Ghyslaine Gau, Calixto Neto, Manon Santkin
Lighting design: Minna Tiikkainen
Music & Soundtrack: Peter Lenaerts, with music by Will Guthrie (Breaking Bones & Snake Eyes)
Set: Mette Ingvartsen & Minna Tiikkainen
Dramaturgy: Bojana Cvejic
Assistant choreography: Manon Santkin
Assistant production: Manon Haase
Assistant light: Nadja Räikkä
Technical director: Joachim Hupfer & Nadja Räikkä
Sound technician: Adrien Gentizon
Company Management: Kerstin Schroth
A production of Mette Ingvartsen / Great Investment
Co-production: steirischer herbst festival (Graz), Kaaitheater (Brussels), HAU Hebbel am Ufer (Berlin), Théatre National de Bretagne (Rennes), Festival d'Automne (Paris), Les Spectacles vivants – Centre Pompidou (Paris), PACT Zollverein (Essen), Dansens Hus (Oslo), Tanzquartier Wien (Vienna), Kunstencentrum BUDA (Kortrijk), BIT Teatergarasjen (Bergen), Dansehallerne (Copenhagen)
Funded by: The Flemish Authorities, Hauptstadtkulturfonds (Germany) & The Danish Arts Council.
With the support of Musée de la Danse/Centre Chorégraphique National de Rennes et de Bretagne
A House on Fire co-production; with the support of the Culture Programme of the European Union
Research and residency supported by APAP; with the support of the Culture Programme of the European Union.
Texts & interviews
7 Pleasures – Interview with Mette Ingvartsen
7 Pleasures – Entretien avec Mette Ingvarsten
Oct 28, 2016 9:12 AM

2016

October 28 - 29
Studio Bergen, Norway

Oct 21, 2016 9:12 AM

October 21
Dansenshus, Stockholm, Sweden

Oct 12, 2016 9:12 AM

October 12 - 13
Théâtre Vidy-Lausanne, Swiss

Oct 7, 2016 9:12 AM

October 7 - 8
Kaaitheater, Brussels, Belgium

Sep 2, 2016 9:12 AM

September 2 - 4
Theater Spektakel, Zürich, Swiss

Jul 9, 2016 9:12 AM

July 9
Stadsschouwburg, Amsterdam, NL

Apr 22, 2016 9:12 AM

April 22 - 23
PACT Zollverein, Essen, Germany

Mar 11, 2016 9:12 AM

March 11 - 13
Dansens Hus, Oslo, Norway

Mar 2, 2016 9:12 AM

March 2 - 5
Dansehallerne, Copenhagen, Denmark
Dec 9, 2015 9:12 AM

2015

December 9 - 11
HAU2, Berlin, Germany

Nov 27, 2015 9:12 AM

November 27 - 28
Kunstencentrum BUDA, Kortrijk, Belgium

Nov 18, 2015 9:12 AM

November 18 - 21
Centre Pompidou, Paris, France

Nov 12, 2015 9:12 AM

November 12 - 14
TNB, Rennes, France

Oct 30, 2015 9:12 AM

October 30 - 31
Tanzquartier, Vienna, Austria

Oct 2, 2015 9:12 AM

October 2 - 3
Kaaitheater, Brussels, Belgium

Sep 26, 2015 9:12 AM

September 26 - 27
Graz, Austria